About Us
For the last 20 years Creative Earthscapes has been designing and creating beautiful outdoor living spaces for thousands of homes in Columbus and surrounding areas, such as Bexley, Upper Arlington, New Albany, Dublin, Westerville and Canal Winchester. Thanks to our high quality workmanship, creativity and outstanding customer service, we have managed to earn an A+ rating with the Better Business Bureau (BBB).
We service Columbus, Delaware, Westerville, Dublin, Lewis Center, Upper Arlington, New Albany, Powell, Hilliard, Pickerington, Galena, Grove City, Granville, Blacklick, Clintonville and neighboring cities in Ohio.
CALL US: (614) 322-3333.
Making Your Dreams a Reality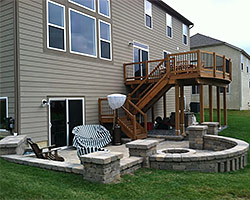 Your outdoor living area is a part of your home. It can be created into a comfortable, inviting and cozy extension of your home, where you can rest, relax and enjoy fun time with family and friends. It is a place where you can escape to when life becomes stressful. Sitting amidst the lush greenery of your garden will be sufficient to de-stress and get you ready for the rigors of life.
We are there to create breathtaking designs using our highly qualified and trained in-house designers. Our professional and artistic designs will help increase the value of your home, but also create a spectacular retreat for you and your family for years to come.
Our amazing designs of gazebos, patios, decks, fences and walls can enhance the curb appeal of your home and make it the envy of all eyes. Now is a wonderful time to add to the beauty of your home and we are here to help turn your dreams into a reality.
The Creative and Building Process of Your Outdoor Living Area
We believe in forging long-term relationships with our clients and that is why we have a collaborative approach to our designing and building process. We make it a point to get your ideas and suggestions and recommend what best suits your home's architecture. This way, we work with our clients to reach a common vision and goal – creating the most beautiful and alluring outdoor living space.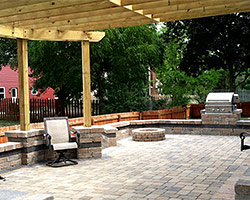 Our experienced designers delve deep into your mind and thoughts to get what you are looking for. Using that as a starting point, we design a Dreamscape that our workers then transform into a reality using the highest quality raw materials and exquisite workmanship.
Our workers ensure that there is minimal disruption to your routine life and we also clean up after the project is completed, allowing you to immediately relax and enjoy your newly constructed outdoor living space.
Professionalism. Commitment. Quality. Artistry. These are some terms routinely used to describe our designing and building process. When you work with us, you will immediately notice the difference. We genuinely care about our clients and their happiness. This is what makes us work even harder to complete each project and exceed our clients' expectations.
Transform Your Outdoor Living Space!
We are located on 376 Morrison Rd, Columbus, Ohio. Feel free to walk into our offices or call us on (614) 322-3333. Our designers will come over to your home at a convenient time to find out what you want. Our free quote consists of sample designs, materials that we will use for the project and examples of our previous work. This will give you satisfaction knowing that you will have one of the best designers and builders of outdoor living space.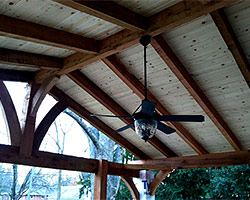 Why Choose Creative Earthscapes for Outdoor Living Needs?
Family-owned business
Hands-on owner
Exceptionally high quality workmanship
High quality and durable materials
Best designs
We stand behind our work
Our staff is highly qualified and trained
We listen to what you want
We keep our clients involved from the start to the finish
We always exceed expectations