Fireplaces
Fireplaces, Firepits and more; Creative Earthscapes is where your backyard ideas come to life! Gas line, gas starter and woodboring are some of the options for your fireplace. We don't expect you to know the differences, but maybe you do. If not, read on to see what types of fireplaces we install and how we build them. No Outdoor Living Space is complete without a place for the family to gather and warm up together. So many types of fireplaces give us a lot of options when we are considering your Outdoor Living Space design.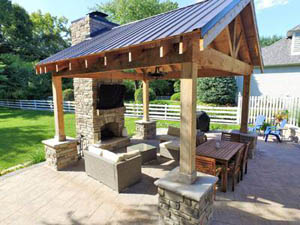 Good old wood burning fireplaces are coming back with a vengeance! Those rustic cedar pavilion roofs with the towering fireplace adjacent is most likely woodburning. This is a simpler idea, there is no electrical or gas lines to worry about, but Ohio Fire Code has some requirements that would come into play according to the placement of the fireplace in relation to other buildings in the vicinity. These are a comforting addition to your Outdoor Living Space. We use a 36" arched mantle Fire Rated, Stone Age insert and build around it the custom fireplace for your space.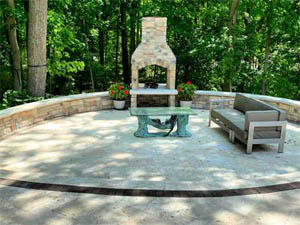 This is another burning Fireplace - they do not always have to be as tall as the last one! This one is much cozier, notice the pass-through feature that allows for the beautiful view to not be obstructed by the fireplace. You could also set this style in the middle of a patio to separate spaces and use from both sides! If you were sitting here on this patio, plenty of space for marshmallow roasting here! This is the same 36" arched style fireplace but with the open back.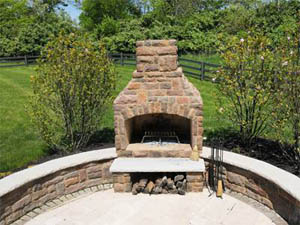 This fireplace is woodburning, but has a gas starting feature, like most grills and some firepits. This one shares the same smaller design as before with a slightly different style veneer stone applied to the front.
Gas line starting is another great option if you want the traditional options of wood burning fire with less hassle to get it going! We can build a firebox below the hearth, like in this picture or we can do fireboxes for storage on the sides of the fireplace.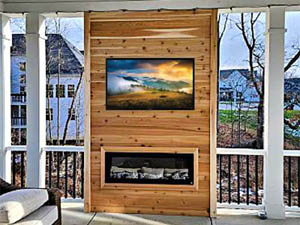 With a new twist on things, ventless electrical outdoor fireplaces are literally on fire! There is a new and huge demand for this low maintenance fire option. You can just switch it on for instant ambiance! It does require electrical work and is not quite as warm as the traditional wood burning options, but convenience is key with this option. While these do put out some warmth, they are no replacement for wood burning or gas line fireplaces if you want to cook, toast or warm up- even on your deck. We can work one of these into your deck design! This is an improvement to an existing porch. We upgraded the rail and added the privacy wall with electrical to give them the TV and fireplace option. There is also a larger deck and patio project at this site.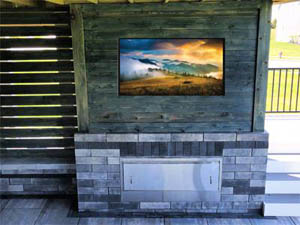 This example is a ventless gas line insert fireplace. It has a gas line and electrical to power it. Built into this custom wall for both privacy and a place to hang the tv! This privacy wall is built on the walk out level of a huge deck and screen room with waterproofing above. This set up was made for cozy weekends and Hockey games by the fire! Custom Cedar wall bult on Unilock Lineo stones.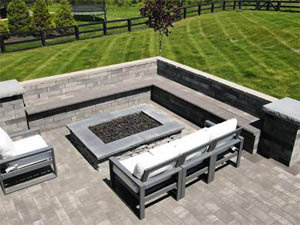 Everyone has a fire pit these days, but do you have a gas line, outdoor Fire Table built into your patio? If the answer was no, it doesn't have to be! This set up is a rectangular shape enlarged to 6' long from a typical firepit size as 4' for more marshmallow toasting space. The upgraded seat wall behind it also has a back rest. This project has a more modern look to it using the Unilock Lineo stones in the wall and a linear pattern on the Field pavers.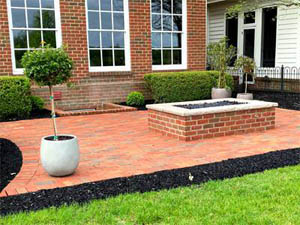 Another style of a gas line firepit, larger than the standard. This one is also gas line with Brick Veneer stone facing and Limestone cap. Set on a clay paver patio, this space is the belle of the neighborhood parties! The foundation for a veneer stone fixture uses cinder block foundation as opposed to Unilock Dimensional wall stones so the height on this is a little taller at 16" and capped with natural Indiana Stone cap with a rough edge. This space accompanies another preexisting space with a vinyl pergola and outdoor kitchen we added.
This is a traditional wood burning firepit on top of the patio field. It's built using a Unilock Dimensional Wall stone, 3 stones high- 12" you can also add an additional cap, bullnose is the most common choice. Of course, this pairs well with the additional seating options of a seat wall and finished on the ends with pillars as seen here.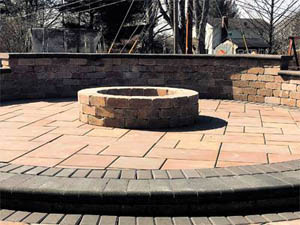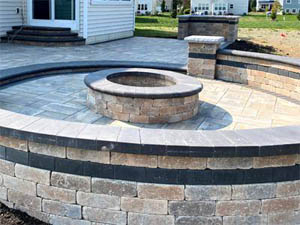 Fire Features can come in many shapes and sizes and flexibility to use them in many different areas. While not all fire features are appropriate for every situation, we are sure that there is one to fit your needs. Everyone loves toasting marshmallows around the firepit, it is one of our favorite features in patio design. With such a wide variety of materials and styles available, there is sure to be a suitable fire feature we can add to your Patio. Give us a call today to get a Free Design Consultation for your new patio with a Fireplace or a Firepit!