Outdoor Living
Create Unique and Personalized Outdoor Living Space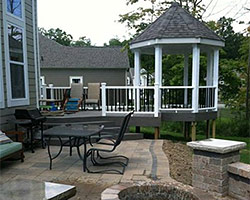 We at Creative Earthscapes understand the importance and value of outdoor living spaces. We firmly believe our customers should have a choice to showcase their personality and taste. After all, your home is your palace and you have the choice of extending your living space and take it outdoors.

We have been excelling in designing and creating beautiful outdoor living spaces in central Ohio and take great pride in providing high quality workmanship to design spellbinding and beautiful sunrooms, patios and decks. Located on Morrison Rd, Columbus, Ohio, we have been serving Columbus and the surrounding areas, such as Upper Arlington, Powell, Worthington, Grove City and Dublin. We are highly sought-after, as we provide customized designs and materials to fit into our client's budget. We handle all aspects of the construction and even ensure your yard is carefully protected during the construction process. At the end of it, we leave you with an outdoor space that you will adore.
We service Columbus, Delaware, Westerville, Dublin, Lewis Center, Upper Arlington, New Albany, Powell, Hilliard, Pickerington, Galena, Grove City, Granville, Blacklick, Clintonville and neighboring cities in Ohio.
CALL US: (614) 322-3333.
Don't Let the Elements Rob You Of Your Outdoor Living Space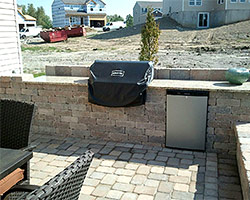 Most people assume an outdoor living space is just to enjoy the lovely sunshine in summer. However, we beg to differ. We believe that you should not be deprived of the joy of spending time outdoors regardless of the weather. Inviting and warm fireplaces and fire pits can transform your yard into a year round retreat where you can spend time with your loved ones and friends. Imagine pulling up a cozy chair next to your outdoor fireplace and reading your favorite author's novel in the middle of January? This is not the prerogative of the rich and famous. There are beautiful and affordable weatherproof choices that can make your outdoor space an extension of your indoor space.
Transform Your Outdoor Living Space into a Sanctuary
Today, life is hectic, busy and full of stress. Between working and household chores, you hardly get time to relax and rejuvenate your body and mind. That is why an outdoor living space is so important. Spending even 10 minutes in the midst of nature can give your those precious me-moments to relax and recharge your batteries. Getting away from the confines of four walls and roof will allow you to take in the beauty of the outdoors and breathe some fresh air, great stress-buster recipes! And when the outdoor space is designed and built to your specifications, it will be your own private sanctuary to retreat to when things around you get chaotic and hectic.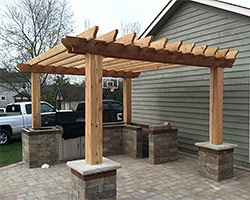 When you want to create the perfect outdoor living space that's built to your taste and budget, look no further than Creative Earthscapes. We are BBB-approved Company, with an A+ rating. When you opt for us, not only will you have peace of mind knowing that the best raw materials will be used to create your outdoor space, but we also offer an amazing 5-year warranty on our workmanship. We install all materials as per the specifications provided by the manufacturers and ensure there is minimal disruption to your normal life. Most of our projects get completed in 2 to 3 days. Call us on (614) 322-3333 and transform your outdoor space into something beautiful and functional.