Room Additions - Closed Sided Structures
Since all these rooms are custom depending on the client's needs, you may see some of the ideas cross over between this page and the Open sided structures page. For instance, Gazebos can be open sided or screened. Even independent structures can be screened or have walls!
Screen Rooms with standard wall framing
What better way to enjoy the outdoors without worry about bug bites? Screen rooms create a new area outside of your home for enjoyment in the outdoors, mostly. You do not have to limit yourself to 4 walls either, we can screen any of our custom structures for you! With lots of roof style options to find the right fit for you home and style, there are also several ways to enclose the roof! These pictures show a standard wall framing, 2x4 studs, with a knee wall. The knee wall can be anywhere from 12"-36"- depending on the elevation of the floor of the room, building code may require the higher knee wall if you choose screens. Other options can allow for a shorter knee wall, we will talk about those later.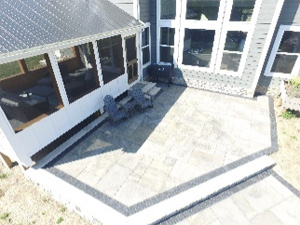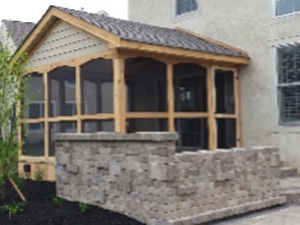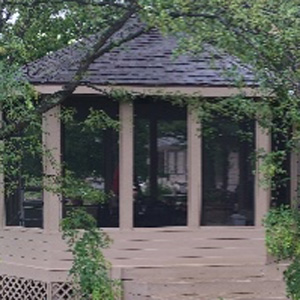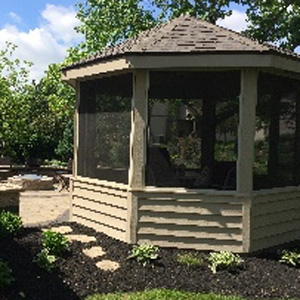 3 Season Rooms, 4 Season Rooms and Room Additions
Thankfully, we have the knowledge and experience to bring you any sort of home expansion you would like. As licensed General Contractors as well as Home Improvement General contractors we can make the most basic addition for you or we can include all the bell and whistles depending on your preferences. Some options that make these rooms different from each other include the type of foundation, style of framing, HVAC inclusion, and insulation but there are more as well. We can provide you with whichever of these rooms fits your budget and taste accordingly. Most off these things we do with our in-house crews, but we also use professional services when needed for certain line items. You do not really need to know the difference between these, most important is that you understand that there are a lot of different options! These rooms can be hard to tell apart on the outside, they can all be suited to match your homes style and the inside will be finished with the fitting you want.
3 Season Rooms
Let's talk about the differences between these three types of rooms starting with 3 season rooms. These rooms are completely enclosed, with either single pane windows or Eze-Breeze Windows. EzeBreeze are vinyl window panels that open and close and are also screened. They don't offer much (if any) heat retention. They are also not "tempered" so if the floor of your room is below the 36" I mentioned before, the Ohio Building Code requires a 36" tall boundary for safety. These rooms are not insulated, nor do they have HVAC as the room is not going to hold heat, energy would be wasted trying to in certain conditions- making this room comfortable for "3 Seasons" out of the year. These are usually built onto a deck frame and flooring but can also be a few other options as well.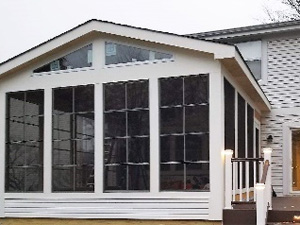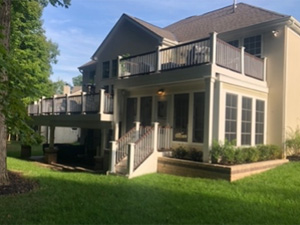 4 Season Rooms
A 4-season room, while not an actual room addition, is still a room that can be temperature controlled and truly an extension of your home. These are typically insulated in the knee wall and ceiling, as well as under the floor of the deck when appropriate. While there is no connected HVAC system into your new room, there are many heater options that will keep this room warm and cozy. Another difference between a 3 season and 4 season room is the windows- 4 season rooms are going to use double pane windows, just like you home or room addition would. Several options of double pane windows are available including casement, double hung, single hung and even bay windows can go into your 4 season room. Heaters are a new trending option we are seeing folks install. Those can be used in open sided or closed sided structures. We would encourage you to consult with the manufacturer on the requirements for the heaters and your existing electrical or gas line capacity. There are options for the heaters in electrical or gas and these can also be added after install. Flooring in 4 season rooms can be many things! We've used tile and heated the floor, hardwood, laminate and even carpet are all options for a 4 season room.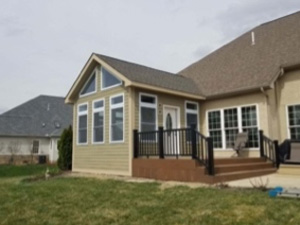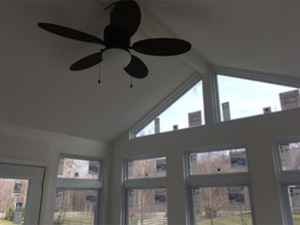 Room Additions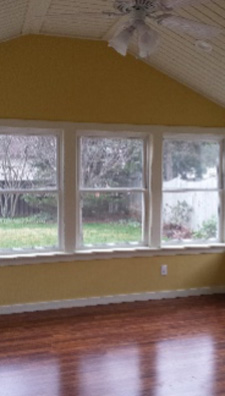 Room additions are truly an addition of your home. Most of the time these are built with the same foundation types that houses are built with, concrete or concrete block. These also include HVAC system to tie into your existing or you can create an independent system in the room. Exterior doors installed at the exits instead of a screen door, like sliding glass doors or French Doors. All our rooms are built using Ohio Building Code requirements and inspected by the local Jurisdiction. Since both a room addition and 4 season room use real windows and are watertight with temperature controls, you can drywall the inside walls like you home. In screen rooms and 3 season rooms we do not recommend drywall, drywall needs to have some regulation to the temperature and be moisture tight to avoid cracking or molding.
Gazebos
For a more traditional look, consider a gazebo! 6 sides, 8 sides, 10 sides- all gazebos 😊 These are beautiful by your pond or even just at the edge of the patio. These can be screened of course so you can enjoy the outdoors without the bites!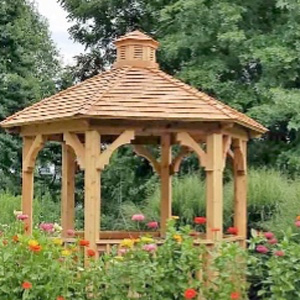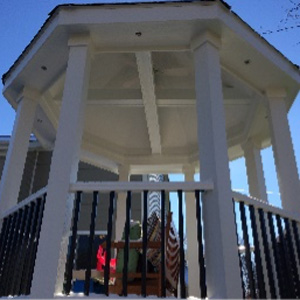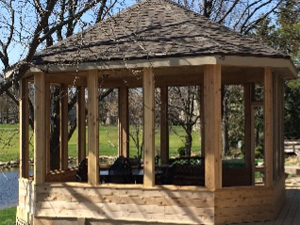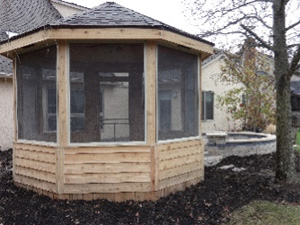 Check out our design ideas page if you are looking for some design help! Head over to the budget guide to figure out some basic pricing for the project you are dreaming of. Give us a call to set up a free consultation! Most of our consultations result In a complimentary 3D design of the project we are quoting for you. No hassles, no high pressure!
Serving the Central Ohio Area, Columbus, Franklin County, Delaware County, Union County, and parts of Licking and Fairfield Counties.