Paver Patios, Natural Stone Patios, Brick Masonry Patios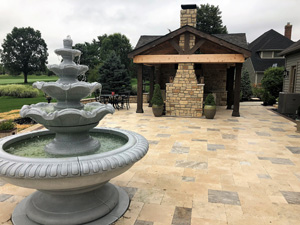 Adding a new patio to your home is a great investment. Not only does it add personal value and an extension of your home, but it also increases the market value of your home. Patios are fun because no two are alike; each patio is created stone by stone for just your space and to your taste. Our helpful staff can help guide you through the design process, HOA zoning and building approvals and installation. Our design consultations are free and include 3D designs when appropriate.
With so many material options for patios, you need an expert to help guide you get the best fit you are your style and budget. With so many size and color options available it is best to work with someone who can educate you on the pros and cons of each product and help you decide which works best for you. Our patios are not only created with beauty in mind, but also function. We have a display in our office to show the most popular styles and colors of pavers and walls and we also include a 3D design image with most of our quotes. We understand that these projects are an investment, we are here to help you along the way!
UNILOCK AUTHORIZED CONTRACTORS

Installing a patio may look easy, but it is indeed quite a bit of hard work. We are proud to be Unilock Authorized Contractors since 2010. The most important part of installing a patio is creating a great base. Digging out the appropriate amount of soil depending on the grade of the yard, adding gravel, levelling, adding different gravel, levelling, levelling, and more levelling. Unilock backs up our work with an additional 2-year labor warranty for patios we install because they know have done it right, the first time.
NATURAL STONE PATIOS
Natural stone has many more color and size selections than in the recent past and when there is more supply of something, the cost naturally comes down. We have seen the cost of natural stone fall more in line with pavers in recent years and we want to share that with you! We work with the best stone manufacturers in the area to get the highest quality natural stone for your patio and walls. Travertine, Flagstone, Clay pavers and so much more are within reach for everyone's budget. We have samples of those stones in our office display and we can also set up with a meeting at the stone yard for you to see them in person. Natural Stone patios are without a doubt one of the most beautiful ways to upgrade your outdoor living space.
OPTIONS, OPTIONS AND MORE OPTIONS
Stone patios - no matter if its pavers, natural stone, or brick - are built stone by stone just for you and your yard. Because these are so custom, you can really add just about anything you can dream up. A short list of just a few trending options we are seeing today include:
Fireplaces
Water Features
Outdoor Kitchens
Veneer Stone wall
Built in Grills
Roofs/ pergolas
LET'S GET DOWN TO THE DETAILS
If you're looking for something special to add to your patio, we have more than just a few ideas to really make your project stand out from the neighbors! Some basic things to upgrade your patio:
seat walls
pillars
lighting
grill wall
wood burning firepit
Still looking for more?
Add a second border color to your patio
Accent strips in the walls and pillars are a nice touch
Step lighting and wall lighting
Upgrade your seat wall caps to Natural ledgestone
Gas line for your fire-pit
Peak-a-Boo walls
cascading steps
multi-level patios define spaces
WHEN YOU ARE READY TO TRANSFORM YOUR YARD WITH A NEW PATIO
Call us for a no obligation free design consultation. Check out the specials page on this website for current pricing on some patio, deck and screen room projects. We service Columbus and surrounding areas including New Albany, Powell, Dublin, Galena, Gahanna, Westerville, Granville, Newark, Pickerington, Grove City, Hilliard, Upper Arlington, Plain City, Marysville, Buckeye Lake, Thornville, Worthington, Clintonville, Canal Winchester, Groveport, and more.
Patios are one of the first things we started constructing in 2003, and it's close to heart with our staff many of whom have installed patios themselves! We take pride in our design techniques and are happy to share our knowledge of how to improve your yard with a stone patio project today!
WHY CHOOSE A STONE PATIO vs. CONCRETE?
All this work, you may think, why would I install a stone patio? Well, stone patios are much more appropriate in the conditions here in central Ohio. While often the temperatures in the Winter are moderate, the freezing and thawing of the ground causes patios to shift. This shifting can either cause a low spot (in stone patios) or it can cause an un-repairable crack (in concrete, all types). Not to mention the possibility of staining from an accidental drop or spill, with pavers you can replace what is stained without having to repair the whole patio.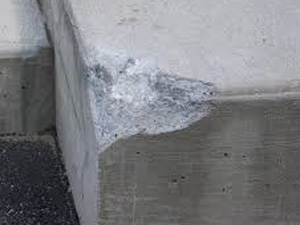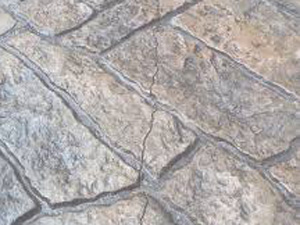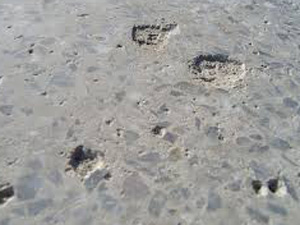 MAINTENANCING YOUR NEW PATIO
Pavers will need some maintenance to upkeep their beauty. Our 5 year labor warranty covers any sort of settling and the Unilock Manufacturer warranty covers the pavers for lifetime of cracking; but there are other things the patio will need from time to time.
As with most things, the more often you clear the leaves off your patio the better. Rather using a blower, hose, or broom, be careful around the cracks, too much pressure can push the sand out. Although it is commonly thought that "weeds" grow up from below the patio, it is truly that they take root from the top of the patio in the polymeric joint sand. This is one of the main reasons it is so important to keep the patio clear from debris.
You also do have the option to seal your patio, depending on the type of pavers you choose, it may or may not make sense to seal them. Often we find that once you seal you need to keep re-sealing and some of the premier pavers out today come self-sealed so it's really not necessary. Ask us about the details for specific products as each is different!