Pavilions - Open Sided Structures
Custom is the name of the game when it comes to structures and shade for your personal outdoor living space and that is what we do best. We specialize in custom structure that add beauty, shade and depth to your space. Let Creative Earthscapes help you create a warm spot to relax by your fireplace, a shaded spot for outdoor family dinners or a reprise from the hot sun by the pool.
There are many roof options, but not every roof will suit every house, in fact it is quite the opposite. Depending on the style of your home and location of windows and elevations that already exist– there is sure to be a roof style that will work with your home set up but you might need an expert to help you figure it all out– we can help with that! Some instances would need an architect or engineer but those are rare occurrences.
Rustic Open Gable Pavilion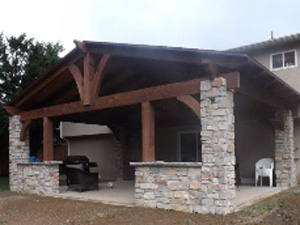 TREND ALERT!! Rustic Gable Pavilion with Cedar trim and exposed rafters. The Cedar starburst in the gable is a nice touch that we like to add. A ceiling fan will keep the air moving on a beautiful day, add one of these and get tons on compliments from the neighbors! This style of pavilion goes great with an additional feature, rather it is a fireplace, outdoor kitchen or water feature; these options take your pavilion to the next level. Fully functional kitchens keep the mess outside, we even have cabinet options that are soft close with all the extras options for pull outs and accessories.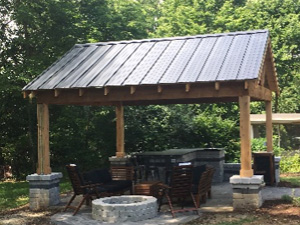 Hipped Roof Pavilions
This classic style roof is a great addition to most homes, adjust the roof pitch to get a different feel or you can add a cupola for extra light. We find that matching the style of your existing home is best. It adds value to the property and makes it look like it was meant to be. A lot of modern style homes have hipped roofs with modest slopes and large soffits. These are typically built with enclosed rafters and trimmed with the same type of materials that were used on your home, usually LP Smart trim, Hardy Siding or Cedar. The enclosed rafter gives the room for can lights in the ceiling which is a great perk! Most of these projects use a standard 30-year dimensional shingle, one that matches your house if you can provide that information to us!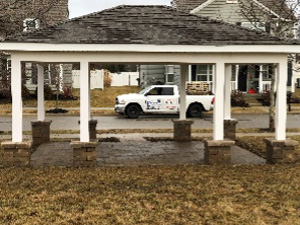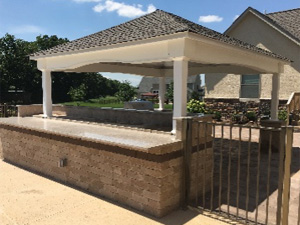 Shed Roof Pavilions
Shed Roof pavilions are a great choice for a simpler roof that needs a low profile. Shed roofs are a popular add on to many of the new style homes that are 4 or 5 level styles and they have windows and doors at atypical heights to work around. With a profile able to go as low as 8 Degrees with metal roofing, often a shed roof is a great option. This style of roof almost always attaches to your home, so it's more important than ever to match the style and trim materials that you already have on the home. You can see the enclosed rafters again making it easy to add electrical into the ceiling, can lights, fans etc. to make you area more comfortable.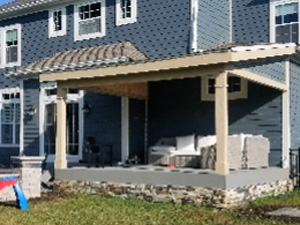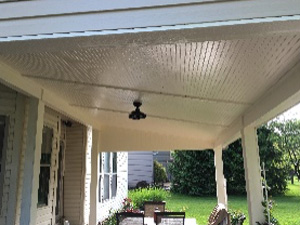 Flat pitched roof system
Also known as a rubber roofing system, this type of roof can be used when there is no head room to slope that roof and it needs to be flat. It's built and framed much like the other roof styles or even a deck floor, but then it is covered with a rubber membrane and sealed with an asphalt solution. Flat pitched roofs are also the best way to create a balcony over top of a room addition like in the picture to the left. You can also add ceiling lights into these, they are of course watertight. This style of roof is often used in commercial roofing applications.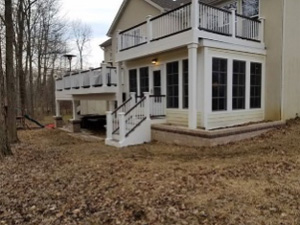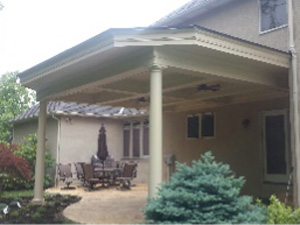 Pergolas
Pergolas are another great way to add some shade but still enjoy the sun on your patio or deck project. There are a few design and material options for pergolas which all are a consideration for their cost and installation time. Cedar, Vinyl & Shade Tree Canopy pergolas are the most popular materials in our area and our favorites as well. Pergolas are more flexible than a load bearing roof and easier to install. We install the Cedar pergolas with our in-house crews. We use the manufacturer crews to install the specialty products like Vinyl pergolas or Canvas shade pergolas. Those companies offer a great warranty on the product and their installation if we use them.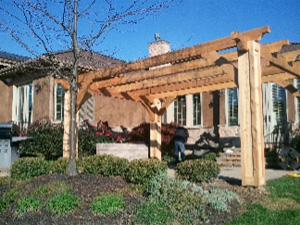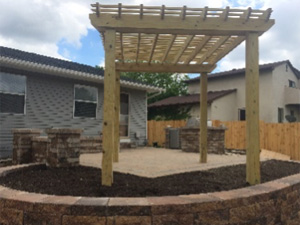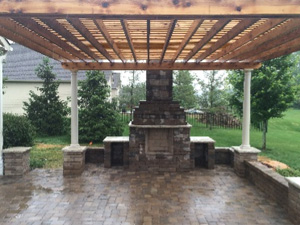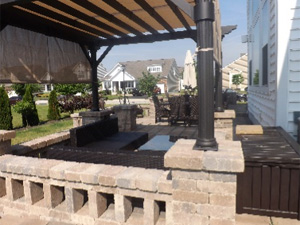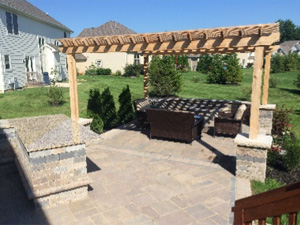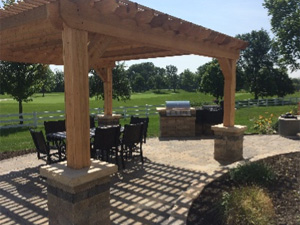 Call us today to set up your free consultation for a Structure project! There are so many more pictures available in our website photo gallery, on Facebook and Instagram!