DECKS: COMPOSITE DECKING, WOOD DECKING. TIMBERTECH PLATINUM INSTALLERS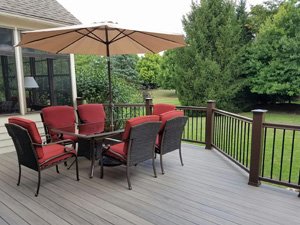 Let us add a deck to your Outdoor living space, as an extension of your home your deck can reflect your character and style using a variety of products available today. Our experienced staff is here to help answer questions about products, installation, and the design process. Our design consultations are free and include a 3D design when appropriate.
Servicing Columbus and surrounding areas, Delaware, Lewis Center, New Albany, Galena, Upper Arlington, Westerville, Pickerington, Canal Winchester, Dublin, Powell, Hilliard, Grove City, Blacklick, Gahanna, Clintonville, Granville, Newark, and more.
PROUD TO BE PLATINUM TIMBERTECH INSTALLERS
1 of only a few Platinum installers in the City...
If you are in the market for a composite deck, you found the right place! Composite decking materials have come a long way in both affordability and beaty in the last decade. If you are on the fence about composite versus wood, no worries– we install both with the same high standards. If you have questions about the material options available, we are here to help. It is no secret that composite decks can be expensive– make sure you pick the right company to install your investment.
Decks are unique as you can build them to suit just about any area. Make an extension of your home without enduring major interior construction. Decks can have Outdoor kitchens, built in grills, cabinets as nice as inside your home and so much more. Large, small, attached to your home, independent decks, platform decks– there are so many decks to build and so many ways to build them. Let us help you out and get started with a design consultation today!
WOOD DECKS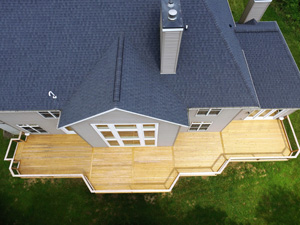 While composite materials are all the new trends, when you have been building decks for 17 years like we have, we have built hundreds of wood decks as well. Treated Pine and Cedar are the main options here in the Mid-West.
If you like the look and feel of real wood on your deck, ask us today about installing your next wood deck! We work with the best material suppliers in the City to make sure we can source only Premium decking and rail materials for our projects. Whenever possible we hand pick much of the wood so that it is in the best possible condition for our installs. We always use galvanized screws for wood decking versus nails, so the boards are not likely to loosen. Call us today for a free consultation about your next wood deck!
OPTIONS - OPTIONS – OPTIONS
There are so many ways to customize your deck, making it unique to just your home and suiting just your needs!
Diagonal Boards
Picture Frames
Use multiple colors for contrast
Skirting
Multi-level
Changing board directions
Riser and Fascia color contrast
Step or Post Cap lighting
ELEVATED DECKS AND WALK OUT DECKS
Decks can be built in so many areas that patios just are not suited for. Elevated decks are one of our specialties, paired with a paver patio below, walk out decks are an amazing value addition in both monetary and personal enjoyment to your home. Have a long span you need to cover without any extra posts? We can use innovative products created for building like Glulam and LVL beams that allow us to span more than the standard amount of distance with treated pine. Most elevated decks are built to attach to your home. This serves several purposes, but aesthetically allows for more space without support beams in the way of your lower living space. All our elevated decks are zoned and permitted through the local building department where you live. Do not worry, this is provided for clients that hire us– we will take care of these for you!
Taking elevated and walk out decks to the next level:
Do not forget that we can waterproof the underside of your elevated deck to create a dry living space below! Our most cost-effective system is the Timbertech Dryspace. Installed in 12' and 16' increments, this includes a gutter and downspout system, and we wrap the posts and beams that are in the dryspace area. It comes in 2 colors, glossy white and bone. Another option is to waterproof the deck using the Trex system and then install a tongue in groove ceiling below. Finished with trim, can lights, ceiling fan and whatever else you would like– no doubt this idea is next level in Outdoor Living comfort and luxury.
DECKS, DECKS, AND MORE...
Decks are one of our favorites since they are sooooo versatile! Want some shade on your deck? Add a roof or a pergola, want to separate spaces, parting boards and alternating colors are a great idea. Have an elevated deck– create a patio space or screened area below. Outdoor Kitchens are a great way to move the family outside for some fresh air, add some NatureKast Cabinets to the deck with a built-in grill and fridge. We can even put a paver patio on your deck! If you can dream it, we can build it. The only limits are the imagination. Contact us today to start planning your next deck project.
Rails for days:
Railings are a big part of the deck to consider. Many options are available in a range of pricing. Most commonly we use Cedar, Composite or Aluminum rails. There is also glass, both horizontal and vertical cable and custom infill or baluster options as well. Screen rooms are beautiful with Westbury Screen Rails! With so many options a stop into our display area is a great idea to see the different profiles, colors and how they match up with the decking. We can even send small sample pieces home with you to see next to your house.
MAINTENANCING YOUR NEW DECK
Wood Decks: Wood decks will need to be stained or water-proofed to preserve their beauty and integrity. While it is not a part of our process to stain the project for you, we do have some recommendations. Wood may not be ready to stain right when we install it (the main reason why we do not offer this as a service). We recommend seeking the advice of a professional painter or professional paint supplier on the best products and advise for how to stain your deck. We always recommend following the manufacturer directions for the stain or water seal process. Composite Decks: Timbertech decks have a 25+ year Stain/ Fade warranty depending on which product line you choose. Although they are low maintenance, they are not no maintenance. They will need to be cleaned every so often, depending on the conditions of the environment. If done more often, a hose will usually do the trick, if not, there is a cleaner that is specifically for Timbertech decks available from their website for purchase. That is the best and only thing we recommend. If you feel this cleaner is not solving your issue, we recommend you reach out to Timbertech Directly about the warranty.